OVERVIEW: LG Touch aims to enhance LG Electronics brand perception through an interactive retail experience. The basic premise for this project is to uplift LG's shopping experience in such retail scenarios, where there is a lot of clutter logistically as well as aesthetically.
CONTEXTUAL RESEARCH: Contextual inquiry, market visits and shadowing activities helped us gather the following insights:
1. Cultural diversity in the Indian market has led to multiple CMF preferences for each product model (For e.g. each LG refrigerator model has 5-10 color and pattern variations). This creates a problem at the shop floor where only a limited number of products can be on display due to space constraints.
2. Often salesmen are busy or not able to answer questions at length. Hence, buyers feel unassisted to discover the right product.
3. When it comes to colour/pattern/finish, the buyer wants to see it as realistically as possible.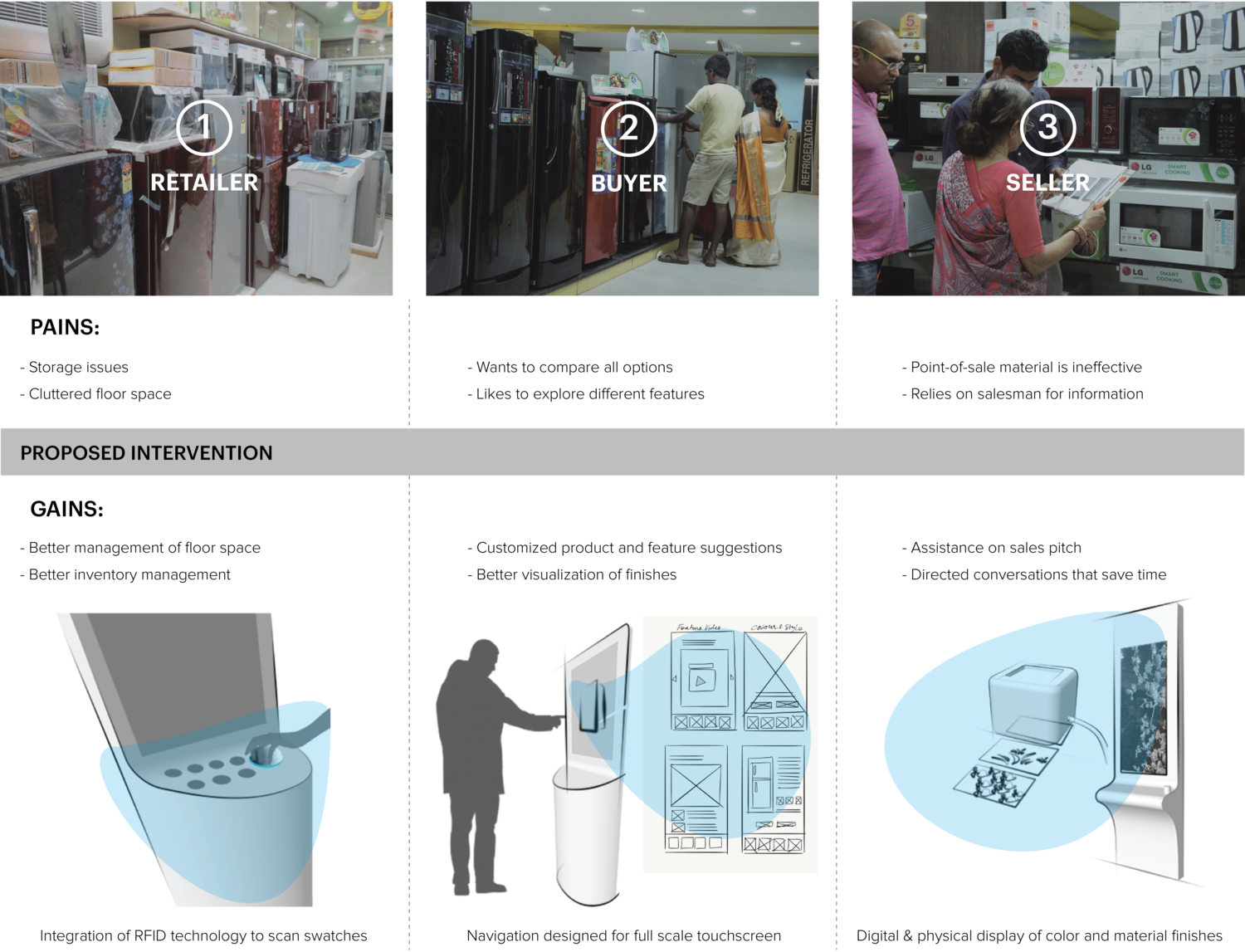 KIOSK BODY DESIGN
We did testing to define ideal screen size and body dimensions based on Indian ergonomic factors. Detailing for the kiosk structure was centered around various physical components (such as large interactive screen display, RFID scanner, CMF swatch rack, printer etc.). This project helped me explore the digital and physical aspects of interaction design. I learnt how simple tangible interactions (for e.g. using RFID technology through an RFID cube reader and physical CMF swatches) when coupled with digital interfaces (to suggest personal recommendations based on usage), engages users for a longer time and creates a more delightful experience.
KEY DESIGN DECISIONS
A lot of deliberation went into why we need a life-size kiosk versus any other solution. Even though small screen displays can deliver information, potential buyers desire a realistic experience of the product. The use of physical swatches and RFID scanner helped visualise the product on a 1:1 scale. A printer was installed to give buyers a memo of the product suggested by the intelligent guidance system. The product suggestions were based on factors like family size, food habits, budget, feature preferences etc. Understanding the different touchpoints and varied needs of stakeholders, helped solidify a fluid visual narrative that maximises efficiency.
NEXT STEPS
The second phase of this project is expected to scale this interactive retail experience for other LG products apart from refrigerator (such as like microwave, washing machine etc.). The challenges foreseen revolve around how to incorporate more physical swatches in the kiosk body design and the number of kiosks per product line (such as like refrigerator, microwave, washing machine etc.) in the shop.
IMPACT
The final solution effectively communicated the diverse LG product range. It was perceived as a trendsetter because it was the first interactive retail experience for home appliances in India. Potential buyers greatly appreciated the use of interactive elements coupled with customised product suggestions. Various LG retail outlets reported a significant increase in footfall and sales within the first month.